More solutions
E-commerce Solutions for Business
Optimize your business's online retail capabilities with our battle-tested and scalable eCommerce solutions. B2B or B2C, we can help.
Our eCommerce experts can help
At Avensia, we've successfully worked on hundreds of eCommerce projects for our clients, some of the best known retail businesses out there.
All of our eCommerce solutions are battle-tested and backed by the extensive experience of marketing, commerce, and business development experts at the top of their game.
Using our proven expertise in eCommerce, we can help you:
Deliver exceptional user experiences – Our technical experts and seasoned commerce advisors combine retail and tech knowledge to give your customers the best shopping experience.
Quickly launch or re-launch a full eCommerce platform – We'll help you create and quickly launch a full end-to-end eCommerce platform that's market-leading and easily scalable.
Get a 360-degree view of your customers across all channels – Success in the world of eCommerce requires you to truly understand what your customers are doing and what they're looking for. Our commerce experts, with teams dedicated to UX, loyalty, data, omnichannel retail, sustainability and more, can help you get a full omnichannel picture of your customer data to better optimize your eCommerce business.
Get localized support – We offer local support right from our eCommerce business offices in Chicagoa. On top of that, we also have centers located across Europe/Scandinavia, North America and Asia, so we can provide you with the support you need, when you need it, no matter where you are.
Launch your e-commerce platform
We offer two e-commerce packages to get your business up and running as quickly as possible with the best results.
Storefront Nitro is a ready-made platform for a rapidly changing online consumer landscape. Get up and running in the blink of an eye by first focusing on customer experience and business value over flashy technology.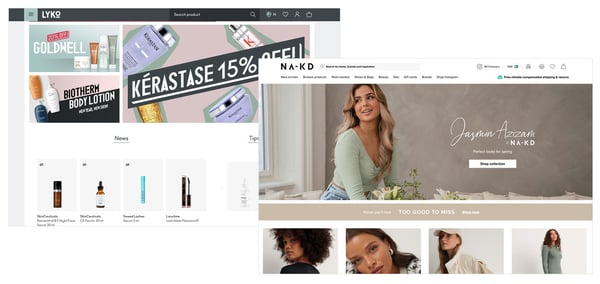 Storefront Excite – offers unprecedented flexibility with its modular approach to e-commerce. This allows you to add new functionality and services to adapt quickly to changing consumer trends.
Both of these packages allow you to smoothly integrate end-to-end digital marketing with customer-focused e-commerce solutions for business.
Case Study - An e-commerce platform that inspires
We built an e-commerce platform for a client with a focus on adaptability using the Storefront Nitro framework. Now they can test and implement new features to stay relevant while offering new and exciting experiences to their customers, all within their own ecosystem.
A results-driven approach
At the end of the day, it's the results that matter. That's why we prioritize customer experiences and KPIs over technical components. That means better results for both you and your customers.
So what does that mean in practice? Well, it means defining your goals in terms of functionality and user experience without worrying about the tech stack. It also means streamlining your internal business processes to help you operate at peak efficiency.
Partnered with global leaders in e-commerce platforms
We're proud to work with two of the world's leading e-commerce platforms, and we bring their expertise to all of our e-commerce solutions.
Optimizely (Episerver) is renowned for seamlessly integrating CMS and e-commerce – helping you look after your customers before, during and after purchases. We're proud to be their partners in providing the best e-commerce solutions for our clients.
commercetools is a next-generation software company that offers a true cloud commerce platform with a uniquely agile approach. Its modular architecture enables you to rapidly build customized designs and services for your customers – giving you unprecedented flexibility, scalability and speed.
In addition to these e-commerce platforms, we offer a wide range of packaged e-commerce solutions from partners that are world leading in their field of expertise.
White Paper - Five key challenges in modern commerce
As we move towards more digitally mature consumers - a new set of challenges are emerging. This whitepaper looks at five new challenges in modern commerce. And provides you with a number of practical ways to tackle them.
Ready to boost your e-commerce?
With experience from hundreds of e-commerce and business development projects, we can leverage your unique selling points with a tailor-made strategy and best-of breed technology.
Find out how Avensia can help you fuel your business growth. Provide your contact information and we will be in touch very soon.