More info
Frictionless, scalable
E-commerce
Our e-commerce solutions are battle-tested and scalable for both B2C and B2B. Brands are realizing there's little time to waste when it comes to creating or improving e-commerce offerings. The current retail landscape demands it. The great news is with Avensia, brilliant e-commerce is within easy reach.
Boost your e-commerce offering
Proven experts in best-of-breed e-commerce solutions
The shift to online shopping is impossible to ignore. E-commerce evolution matters whether you're a retailer, manufacturer, or distributor, with a large store footprint or online-only brand. Yet, getting ahead of the market – or even just keeping pace – can feel daunting. Platforms that felt relevant just a few years ago now feel outdated.
To launch modern, scalable e-commerce solutions remarkably fast, we offer two battle-tested e-commerce packages – Storefront Nitro and Storefront Excite. With these, we smoothly integrate end-to-end digital marketing and e-commerce platforms.
At Avensia, we're proud to have completed hundreds of e-commerce projects for some of the best-known retailers. Our solutions does not only include battle-tested commerce products, but also extensive experience from experts in marketing, e-commerce and business development.
Among other benefits, our e-commerce customers typically enjoy our:
Retail and tech expertise – combining technical experts with seasoned commerce advisors to deliver exceptional user experiences
Go-to-market speed and scalability – launching easily scalable, market-leading e-commerce solutions at breakneck speed, without compromising on performance (e.g., building a fully end-to-end solution for a major supermarket in just a few weeks)
All-encompassing approach – going beyond the e-commerce platform to offer a true understanding of modern retail (modern commerce experts with teams dedicated to UX, loyalty, data, omnichannel, sustainability and more)
Global reach – offering competence centers in Europe/Scandinavia, North America, and Asia, as well as customers around the globe
Case story - NA-KD
An e-commerce with speed and constant inspiration
The Storefront Nitro framework, in combination with the dedicated development team at Avensia, is a perfect fit for NA-KD's needs. It provides them with a low threshold to test and implement new features, to stay relevant and offer their customers new and exciting experiences in the NA-KD online ecosystem.
Results-driven approach to e-commerce solutions
We believe that putting your customer experiences and KPIs ahead of technical components leads to better outcomes for you and your customers with e-commerce.
In practice, this means choosing the functionalities and experiences you want your customers to enjoy and setting the targets you want to hit. Plus, improving the internal business processes to also deliver efficiency. All without worrying about the tech stack.
We do this by offering two, pre-packaged e-commerce solutions.
Storefront Nitro – Built on Episerver Commerce, this option seamlessly intergrates the e-commerce platform with CMS and other best-of-breed components. Speed and performance are at the heart of the tech stack. This scalable e-commerce solution is used by Avensia customers such as NA-KD and Lyko.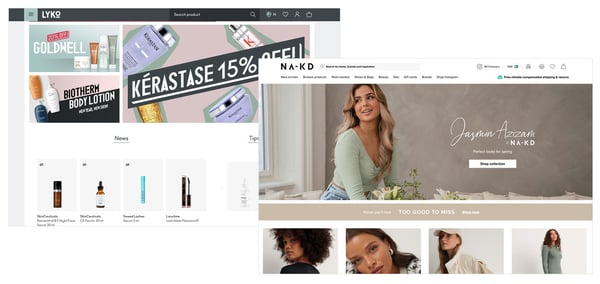 Storefront Excite – Built on commercetools modular commerce platform, this e-commerce solution combines strength with strength. Adopting a micro-services architecture and headless system allows retailers to build a tailor-made modern e-commerce offering. The strength of headless/micro services delivers uncanny flexibility combined with a great customer experience and fast time to market.
White paper
Five key challenges in modern commerce
As we move towards more digitally mature consumers - a new set of challenges are emerging. This whitepaper looks at five new challenges in modern commerce. And provides you with a number of practical ways to tackle them.
These flexible, scalable e-commerce solutions are gamechangers for retailers of all shapes and sizes. Their whole focus is to give you complete focus on your customer throughout your e-commerce offering.
The technology serves the experiences you want to create, rather than the other way around. Flexibility replaces rigid solutions so you can take the path that's right for you. This is modern e-commerce. A modular approach that puts you in the driver's seat, and a great e-commerce offering within easy reach.
E-commerce platform partners
We're proud to work with two of the world's leading e-commerce platforms, bringing their expertise to every e-commerce solution we build.
Optimizely (Episerver) is renowned for seamlessly integrating CMS and e-commerce – helping you look after your customers before, during and after purchases. We're proud to be Optimizely's (Episerver's) only Premium Platinum Solution Partner.
commercetools is a next-generation software company that offers a true cloud commerce platform with a uniquely agile approach. Its modular architecture enables you to rapidly build customized designs and services for your customers – giving you unprecedented flexibility, scalability and speed.
In addition to these e-commerce platforms, we offer a wide range of packaged e-commerce solutions from partners that are world leading in their field of expertise.
Ready to boost your e-commerce?
With experience from hundreds of e-commerce and business development projects, we can leverage your unique selling points with a tailor-made strategy and best-of breed technology.
Find out how Avensia can help you fuel your business growth. Provide your contact information and we will be in touch very soon.