A seamless experience for inspirational shopping
Connecting physical stores with the high-performing e-commerce, KICKS digital eco-system gives the customer a seamless experience for relevant and inspirational shopping. The mobile self-checkout solution empowers both customers and staff with a smooth way of handling payments.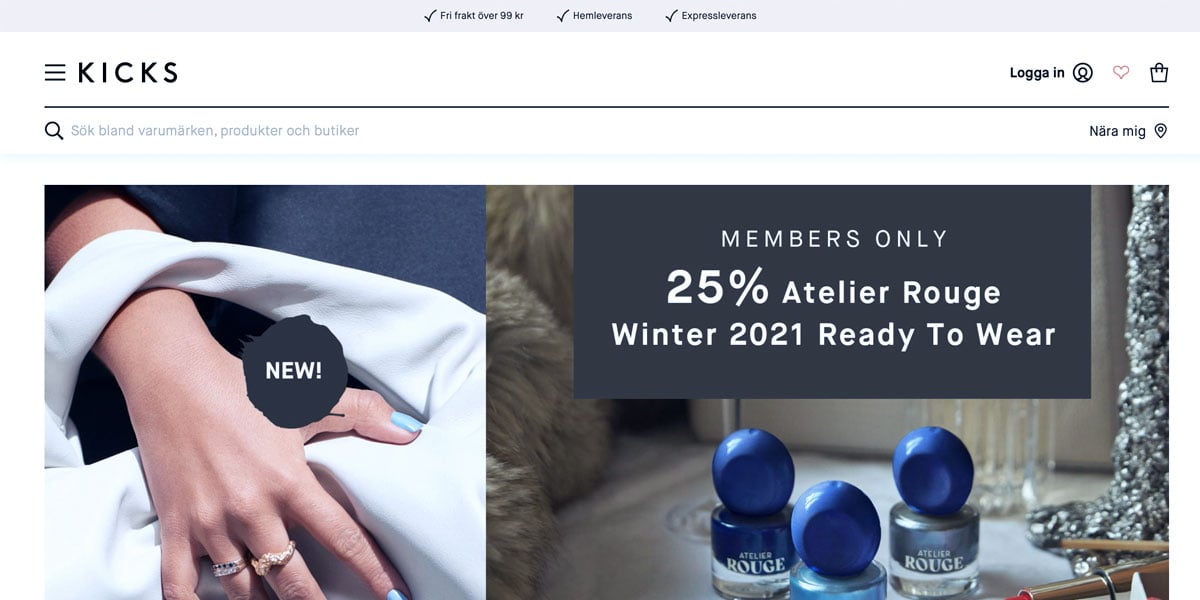 Type of project:
E-commerce, PIM, Business strategy, Digital strategy, In-store solutions
Strategy
During the e-commerce project Avensia worked closely with Kicks on the digital strategy, and have continuously acted as a strategic sounding board for the development of the omnichannel offer, including the in-store solutions.
Goal
Increase sales and improve the brand experience with a modern omnichannel eco-system, fueled by a fast and solid core, that could grow and change at the same pace as customer expectations.
The challenge
A digital solution to satisfy customers' need for speed, convenience and inspiration.
The challenge for KICKS was that they had an e-commerce solution that didn't match their ambitions. After 7 years with the same platform, much was built in-house and custom-made, which made it harder to upgrade. The previous site could not manage Black Friday and had problems during Christmas.
They needed an optimized, more standardized system, that could;
Catch the customers' attention and beat fierce competition​
Erase the boundaries between physical and digital channels
Enable easy upgrades and alterations to cater for ever-changing customer expectations
Give their suppliers a simple way of providing product information
Performance was also crucial for KICKS. As most of KICKS's customers are digital natives, who wants to be inspired and have quite a low attention span, they needed speed.
The solution
A solid ground for continuous work to keep up with modern customer behavior.
The new site was launched the first of November 2017, and it blew their customers' minds. With Avensia's framework Avensia Nitro and the latest e-commerce technology, it is incredibly fast and gives the customers a fantastic user experience. The scalable solution is built on Optimizely's e-commerce platform (formerly Episerver), and Storefront for Dynamics enables integration between the ERP and the digital experience.
With consistent and high quality product data, KICKS can manage product information from suppliers with few people, but with maximum control. The PIM system, inriver PMC, supplies both external and internal channels with valuable product information.
The new e-commerce site was launched with a new graphical profile and a new concept: "More of you". One keyword in this new brand identity is relationship commerce. The goal is to speak to the individual rather than to the masses. With a true unified commerce solution, they can offer a seamless customer experience, where the customer gets the same feeling, service, and support, independent of channel.
Self-checkout with mobile
In 2020, a year of uncountable challenges for the physical retailers, Kicks started rolling out their self-checkout solution to selected stores. The mobile payment solution requires no separate app, and allows customers to complete purchases using their mobile phones, skipping queues and card machines. As a result, Kicks' beauty experts get more time to advise the customers who need help. Watch the solution in our video below.
Avensia's In-store Solutions
Mobile self-checkout
The customer uses their phone to check into the specific store, and can then scan the products she or he wants to buy. No app is needed. The store staff has full control over the purchase process and can support the customer when needed, using technology from Turnpike.
By combining the knowledge and service the store staff can offer, with the simplicity of the self-service checkout, KICKS utilizes the best of both offline and online. The result is an even better and smoother customer journey.
Avensia help us to stay ahead, in the technical perspective but also from a business perspective. Together with their dedicated team we have built an e-commerce platform tailor-made for our needs but most importantly tailor-made for the modern consumer.
Continuous work
Always improving the customer experience
With a data-driven approach to business development, Kicks and Avensia are working together on a daily basis. The dedicated Kicks development team and the commerce advisors at Avensia are working with Kicks to continuously improve the user experience and add value for Kicks' customers, both online and in-store.
Ready for the next step?
With experience from hundreds of digital commerce and business development projects, we can leverage your unique selling points with a tailor-made strategy and best-of breed technology.
Find out how Avensia can help you fuel your business growth. Provide your contact information and we will be in touch very soon.