Grow Your Career at Avensia
We are game-changers who thrive together and love customer success. We are Avensians, growing the winners in modern commerce. Well-known retailers paving the way, and the most talented employees in the industry. Grow your career with us.

Avensians Get More
Thriving employees is a key to Avensia's success. We care for each other and believe that a flexible remote setup and work-life balance are fundamental to the modern workplace. That is how we drive our business forward. Because a happy team equals satisfied customers.
Avensians get more. Individual growth and development plans, remote workplace benefits, wellness grants, and massages. Health care, fun events, competitive insurance, parental benefit, and beyond.
3 reasons to Become an Avensian

We Thrive Together
Our strong culture is characterized by togetherness, collaboration, and the ability to challenge status quo whilst having fun and supporting each other.

We Love Customer Success
Customer success is in our DNA, and we love complex and challenging projects, working with well-known retailers paving the way in the industry.

We Are The Game Changers
We work with the latest technology in a fast-paced, creative, and empowering environment with endless possibilities and employee recognition.
What Does It Mean to Become an Avensian?
We see things a little bit differently. Becoming one of us means being a part of a global and modern tech company where we always work as in-house teams. At Avensia, you get competent, curious, and caring colleagues in a motivating, inclusive, and fun environment where we win together. Avensians are passionate team players with a can-do attitude and the ability to push the boundaries of what's possible. We're recruiting talents who share our ambition. Want to join us?
Employee Testimonial
Selmin Celik, Developer
In my day-to-day work at Avensia, I get the opportunity to test my problem-solving skills, have continuous learning opportunities, and get creative with code. You'll probably never have a boring day when working as a developer. Whenever you decide to write some code, you're creating something new. Sometimes you'll be amazed at how fast it gets done, and sometimes you'll spend a considerable amount of time finding the smallest mistake you have made. But, at the end of the day, you will have great colleagues to laugh about it with!
Curious About Relocation?
Are you considering relocating to Sweden? Avensians come from all over the world, and we have compiled useful information to ensure a smooth transition. In this guide, we give you Sweden at a glance, a guide to the Skåne county, along with information about our office locations and Swedish customs. Get ready for an exciting journey.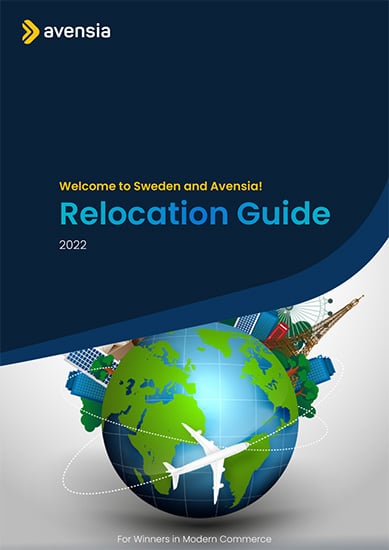 Avensia at a Glance
Avensia is a leading expert company within the field of modern commerce. We implement digital commerce solutions and optimize commerce strategies, making our customers leaders in their markets.
Avensia was founded in Lund, Sweden in 1998. Today, we are 350 employees across locations in Sweden (HQ), United Kingdom, United States, Philippines, and Norway.