Opening a premium department store online
Thorough strategy work set the frames for the digital transformation of Nordiska Kompaniet (NK), with their 120 departments and 1400 suppliers. The digital marketplace project is a close cooperation between Avensia, NK and their retailers. The modern commerce solution combines the strong NK brand with amazing performance and customer experience.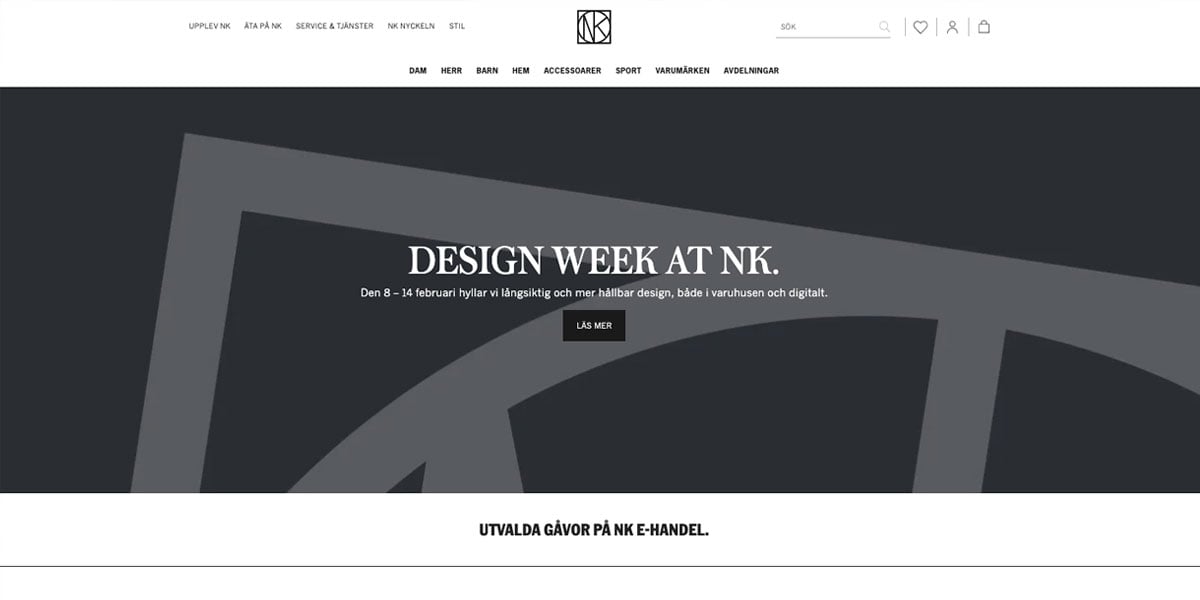 Type of project
Business strategy, Digital strategy, Information Management, MDM, E-commerce, Marketplace, UX Design
Strategy
Avensia were a part of the project from the planning phase, when NK's business model needed to be converted into a digital infrastructure. Together Avensia and NK set the digital strategy, KPIs and a roadmap for organisational needs.
Goal
Open a digital arena for commerce that could bring the NK brand and their retailers to a wider audience and work as an valuable additional sales channel, especially during the pandemic.
The challenge
Gathering 120 departments under one digital roof
Nordiska Kompaniet, generally referred to as NK, is a more than 100 year old premium retailer in Sweden. The elegant department stores in Stockholm and Gothenburg are internationally renowned for their elegance and exclusive product range.
When NK wanted to future-proof their business by opening a digital arena for commerce, the first focus was to find a strategy to support NK's business model. NK is in fact not the seller, but the real estate owner: An elegant marketplace for a vast number of retailers, operating in the NK department stores and under the NK brand. Avensia was the main partner in the planning phase of the endeavour to digitalize this concept.
As the strategy became more tangible, Avensia's solution architects started their work. The particular business model adds an extra layer of complexity to the technical solution, including the necessary components for a modern commerce solution: the core e-commerce platform, the ERP and the solutions for product information and customer loyalty.
A few specific challenges needed to be adressed;
NK is not the seller. Payments from one e-commerce needed to go to several separate businesses.
The wide assortment is sold through 120 departments, from a total of 1400 brands.
Thousands of suppliers were adding information from different types of systems, such as PIM, ERPs and POS systems. Data such as product information, prices and stock levels needed to be consolidated into one coherent e-commerce solution.
NK is a premium brand. The expectations from the customers were sky-high. Everything from the design to user experience in terms of performance, navigation and payments needed to be top notch.
The solution
An elegant infrastructure for a unified brand experience
Avensia built a solution architecture based on best-of-breed modern commerce components. The solution ensures that all product information entering the e-commerce from suppliers is coherent in terms of content and quality, all according to NK's high standards. Despite its complexity, the solution ensures efficient processes, high capacity and a smooth data flow:
Avensia's Avensia Nitro framework on top of Optimizely (former Episerver) Commerce ensures speed, stability and performance in the entire architecture.
Syndigo's (former Riversand) Multi-Domain Management (MDM) platform is the entry point for all product data.
In the MDM, there are automated approval processes, using inbound and outbound event hubs. They require manual final approval.
The MDM feeds Microsoft Dynamics ERP with products, then the stock status and processes are added and the complete set of product data is sent to the e-commerce platform.
Using a cloud solution ensures that product changes registered on the supplier side are updated in real-time for retailers and customers.
Adyen MarketPay distributes payment to relevant departments.
The user interface, the checkout and packaging are all NK branded, giving the customer a consistent NK experience.
NK launched the site with a limited number of product categories and are continuously extending the e-commerce offer with more departments.
We have worked very closely together with Avensia, from the planning phase, when we were trying to find out what an NK e-commerce should look like, to go-live. Our business model is unique which creates both opportunities and challenges, in terms of business and technology. Avensia have been the main partner in this important development project and we are grateful for our close and fruitful collaboration
store visitors yearly
(pre-pandemic)
years since the opening
in Stockholm 1902
The user experience
Fast, relevant, personalized
NK has opened a digital marketplace for first class customer experiences online. The feeling you get when you are strolling through NK's grand department stores in Stockholm or Gothenburg, is conveyed to the online visitor with a simple yet elegant UX design and smooth navigation between departments. The site is always fast, always stable, even on mobile, and it uses AI to present only the most relevant products to the customer.
Using the latest modern commerce technology and tailor-made digital strategy, Avensia and NK have crafted a high-quality digital department store, for the loyal and for a new generation of NK customers.
NK is working closely with the dedicated development team at Avensia to continuously improve the user experience according to modern consumer behaviour.
Ready for the next step?
With experience from hundreds of digital commerce and business development projects, we can leverage your unique selling points with a tailor-made strategy and best-of breed technology.
Find out how Avensia can help you fuel your business growth. Provide your contact information and we will be in touch very soon.