Nordic Nest Embraces Change with Composable Commerce
In their quest to create the world's best customer experience, the world's most motivated team and be the world's most profitable retailer, Nordic Nest found a perfect partner in Avensia and the right solution in Avensia Excite. The fast growing interior design e-commerce business now have a future-proof solution with unrivalled flexibility. It fuels organizational agility and allows for releases of new customer experiences every day.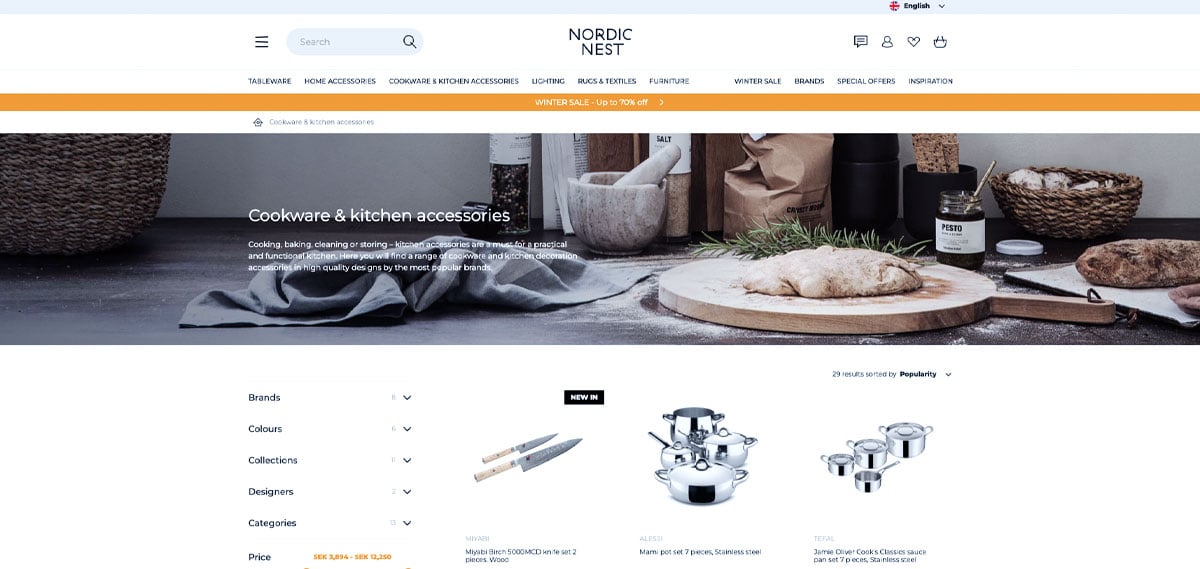 Type of project
E-commerce, Digital strategy
Strategy
Changing to a composable, headless platform that would fit Nordic Nest's development culture and help them reach their goals.
Goal
To launch a solution enabling Nordic Nest to offer the world's best customer experience, the most motivated team and increased profitability, in that order.
on avg. increase in conversion rate
(On all markets, measured 8 weeks after go-live)
decrease in server response time
(Direct result measeured after the change to Avensia Excite)
Increased traffic to the site (sessions). Comparing October 2020 with October 2021 (old platform vs Avensia Excite)
The Challenge
Build a Solution for the Best Customer Experiences in the World
Nordic Nest has a need for speed and a passion for customer experience. They believe in constant improvement in fast iterations. But, to make a long story short, Nordic Nest's old commerce tech setup was holding them back. They had to work really hard to get one release out per week, and a lot of overhead time was needed to get anything out, even small changes. Big changes could take over a year, and then that functionality was already old. Not only did this influence their sales figures, it also demotivated the team to not be able to work efficiently and agile.

Nordic Nest needed a technical infrastructure that could;
- Fuel their drive to create extraordinary customer experiences, every day
- Give every part of the organization the best solution for their needs
- Empower the whole organization to drive change on their own
- Scale tech and organization in efficient manner, set the stage for growth
- Increase speed in development
- Allow development teams to test fast and fail fast
- Empower development teams to drive projects independent of each other

The pandemic accelerated Nordic Nest's need to provide their customers with modern buying experiences. They realized that they needed a next generation e-commerce solution, fast, to be able to stay in the forefront of modern commerce.
In modern commerce, you have to love change. It's not the biggest or strongest who will survive, instead it's those who can adapt best.
The Solution
Carefully Selected Best-of-Breed Technology Components
Nordic Nest knew early that the solution to their challenges was to go composable. They already had a composable mindset in terms of their agile approach to commerce, and a skilled inhouse development team who would be able to leverage the potential of a composable commerce solution.

Avensia Excite offered Nordic Nest exactly what they needed in terms of flexibility and agility. It is a solution built on commercetools' composable commerce platform, and the integrations to other crucial commerce components such as PIM, Search, Relevance, Merchandizing and CRM are already done.

This packaged approach to a composable commerce solution saved Nordic Nest lots of time. They didn't have to do the research about what components fit their needs the best, and they didn't have to spend development time and resources on integrating them. In addition to the already integrated components, they could add any third -party functionality they needed, thanks to the API-first architecture of Avensia Excite.
We really got this one right by combining Avensia's deep knowledge of modern commerce, commercetools' composable platform, and Avensia Excite's powerful performance. The headless and component-based approach allows us to work more agile and data-driven, so that we can develop together with our customers and offer unique customer experiences.
The Result
Significantly increased conversion rate, traffic to the site and motivation in the team
Avensia Excite works as an accelerator, kickstarting e-commerce projects. For Nordic Nest, it meant that they could go live faster with a high-quality e-commerce site while still enjoying the benefits of a solid platform in terms of performance, speed and stability.

With their new e-commerce infrastructure in place, Nordic Nest can quickly adapt to future changes whether that implies integrating new sales channels or adding new functionality. Most importantly, the development teams can continuously test, optimize and improve customer experiences to ensure they reach their end goals.

Eight weeks after go-live, Nordic Nest made an investigation into what the change of platform meant for the conversion. They found that the conversion rate had increased by 5-8 % in all countries, by changing to the Excite platform.

Avensia Excite is developed with a special focus on Search Engine Optimization (SEO). The way the content is structured plays well with Google's algorithms. The results of these efforts can be seen in Nordic Nest's increase in traffic: A comparison between October 2020 (old platform) and October 2021 (Avensia Excite) shows an increase of 79% in terms of sessions.
Objectives and Key Results
An e-commerce project with Avensia is always focused on the results from the start. Tech stack and strategies are carefully selected and optimized to improve the KPIs we have set together, as one team. Nordic Nest uses the Objectives and Key Results (OKR) model to measure their main goals:
Objective: World's best e-commerce experience. Key Results measured by conversion rate, load time (TTFB time to first byte) and Lighthouse score.
Objective: World's best e-commerce tool. Key Results measured by Customer service efficiency, Time to market for promotions and campaigns and Time to market for new functionality.
Objective: World's best customer experience. Key Results measured by number of tickets per order
We set quite aggressive and challenging goals for Key Results for each Objective, but we ended up crushing five of them. And we came quite close with the rest of them. So looking at these results I think that the project was a huge success
Case Study Webinar
Hear the story directly from Nordic Nest's COO
In this 18 minute case study, you will hear Jacob Rastad, COO at Nordic Nest, talk about the strategy behind the project, why they chose a composable solution, and how they could crush their aggressive Objectives and Key Results with their new e-commerce platform.
Continous work
Can a New E-com Platform Increase Motivation in the Team?
What about Nordic Nest's other goal and second pillar, having the world's most motivated team?

The composable setup enables teams at Nordic Nest to independently drive change in their parts of the solution. Knowing that the work they put in impact what they are building together, has led to higher motivation in the entire Nordic Nest team, and the results are shown in the massive output. Ideas for improvements keep coming from all teams, all the time. Today Nordic Nest can get a release out very fast, the only thing stopping them from releasing new functionality every day is that they need to test it thoroughly first.

The agility allows for creativity and makes Nordic Nest an inspiring and attractive place to work.


Ready for the next step?
With experience from hundreds of digital commerce and business development projects, we can leverage your unique selling points with a tailor-made strategy and best-of breed technology.
Find out how Avensia can help you fuel your business growth. Provide your contact information and we will be in touch very soon.