Multi-disciplinary Dream Team behind Award-winning E-Commerce
After implementing Avensia Nitro as their e-commerce platform for groceries in just two weeks, and using it for a couple of months, Coop decided to use the same platform for their other two e-commerce sites, Obs and Obs Bygg. This would allow them to get started quickly and to improve the customer experience with higher speed and greater flexibility. With data, user tests and cooperation with customer service, Coop and Avensia are creating an accessible and customer-centric digital commerce site.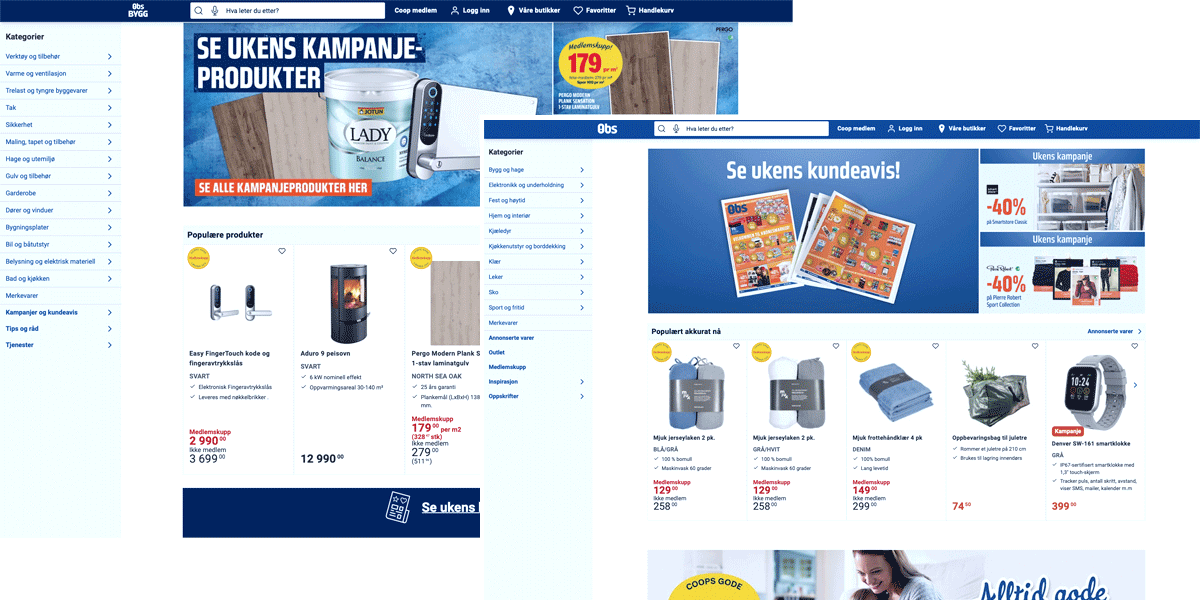 Type of project
E-commerce, UX Design and advisory, Digital strategy
Core products & technology
Strategy
To quickly go live with a complete, yet limited, e-commerce platform first, and then continue to develop the solution at a rapid pace, with the help of data, user tests and cooperation with customer service.
Goal
A customer-focused digital commerce space for everyone, one that can be efficiently developed and improved according to the customer's needs.
The Project
The Super-Fast Nitro Project was the Starting Point for a New Way of Working
Coop Norway and Avensia have been collaborating for several years on the technical infrastructure that forms the basis of Coop's flexible e-commerce offering. When the pandemic hit during the winter of 2020, Avensia built an e-commerce site for groceries in less than two weeks so that Coop could start delivering food to homes.

Two of the keys to such a rapid e-commerce project were that Coop chose to use Avensia's packaged e-commerce solution and accelerator Avensia Nitro, and that the scope was limited to the most important features, because efficiency was the most important thing.

In addition to their e-commerce for food, Coop Norway has two other e-commerce sites, Obs.no selling everyday commodities and ObsBygg.no selling construction & DIY products. These sites were on older and less flexible e-commerce platforms and were in the pipeline for modernization. After having used Avensia Nitro for a couple of months and recognizing that it is possible to get started with a new and flexible e-commerce platform in a short time, they decided in the autumn of 2020 to use the same approach for these two sites. By building them on Avensia Nitro, they were able to quickly complete two e-commerce sites before peak season in spring 2021.

When Coop went live with two complete e-commerce solutions, they were the cornerstones for further offensive development at a much faster pace than was possible with the old platform.
We chose to prioritize functionality that provided customer value in the first part of the project. It was a very agile and efficient job, where we learned a lot about our customers long before the solution was ready for production. We saw the result of the platform change right after go-live: The first week after the launch we sold better than ever.
Continuous development work
Multi-disciplinary Dream Team Releases New E-Commerce Functionality Twice a Week
When Obs.no and ObsBygg.no were relaunched on the Avensia Nitro platform, the same development team continued to work on improving it. Coop Norway has the same passion for customer experience as Avensia, and the team works very pragmatically and goal-focused together. The flexible e-commerce platform allows the team to make a real difference for the millions of Norwegians who visit the sites every month. The large number of visits and customers provide Coop with huge amounts of data that they can use to improve the sites.
Close relationships are a prerequisite for rapid and agile development work
The work that Avensia and Coop are doing together in the Obs and Obs Bygg projects checks all the boxes for efficient and agile development work; Coop releases new functionality twice a week. There are some main parameters that make this possible:
The close relationship between the development team and key stakeholders at Coop gives them the mandate to work effectively.
The modern technical components, glued together with Avensia Nitro for optimal performance, allow for rapid releases of new functionality, testing of new things and pivoting based on customer feedback and customer service.
A multi-disciplinary team from Coop and Avensia, consisting of UX designers, developers, system architects and product owners working towards the same goal.
A common goal: improved experiences for visitors in both digital and physical stores. The project is very focused on improving the connection between the two, and providing a better customer experience regardless of whether the customer is shopping digitally or in the store.
Strategic development. Avensia's commerce advisor within Digital Strategy and Customer Experience was very involved during the implementation project and is an important player in the work going forward.
Evidence-based development. The scope of development is constantly changing, based on feedback from customers, customer service and user tests.
"When Coop went live with new Obs and Obs Bygg online stores just before peak season in spring 2021, it was with confidence that the solution we had chosen was the best. It showed in both interviews and user data."
UX and Design Thinking
UX design is very important in the Obs and Obs Bygg projects. That's why the UX design team works very closely with the developers and plays an important role in driving agile improvement work. Together, they work according to the Design Thinking process. Interviews and user tests form the basis for a deeper understanding of the website visitor and customer needs, and for getting the customers' perspective on a use case or problem. Together, the team tests and experiments in quick iterations to find the best and most user-friendly solution.

One example of development based on a consumer need is the design of the purchase buttons. Not all products shown online can be bought online, but many use the online store to research the product before purchasing it in a physical store. This is especially important in a pandemic, when you want to avoid going to the store unnecessarily and discover that the product is out of stock. It is therefore important that good product information and stock status are displayed for all products.

In cases where you can both buy the product online and in store, the purchase button had to be optimized for several scenarios. Tests and interviews early on in the project showed that customers who wanted to buy online wanted delivery information before pressing the purchase button, while customers who wanted to pick up in store wanted to know when the goods were ready for pick-up. To optimize both buying journeys, the team tried out two purchase buttons: Buy online and Click & Collect. In this way, all customers can get the information they need before they complete a purchase, and Coop can sell store stock even if the store is closed.
It's a great example of how a flexible e-commerce platform can be used to quickly adapt to user feedback to provide a better experience.
Customer Service: An important source of data that drives improvements
Avensia's UX designers talk to Customer Service every other week about what type of questions and complaints they get from customers. One good example is paint. There were a lot of people who wanted to repaint during spring in the pandemic. Many called and asked if they could trust that the color they saw on the site was accurate. Customer service was also able to report that many wanted to buy a white base color, and not a paint with pigment.

The team then conducted user tests to understand more about the customer experience and how they could improve the service of buying paint. Through simple means, the team was able to improve the user experience on the site and more improvements are under way. White base paint has been added to the range and sells best in the online store. As a result of the first changes, sales of paint increased significantly and Customer Service received fewer questions regarding paint. Customer Service is very pleased that the development team listens to them and allows them to take part in the improvement work with the aim of having more satisfied customers.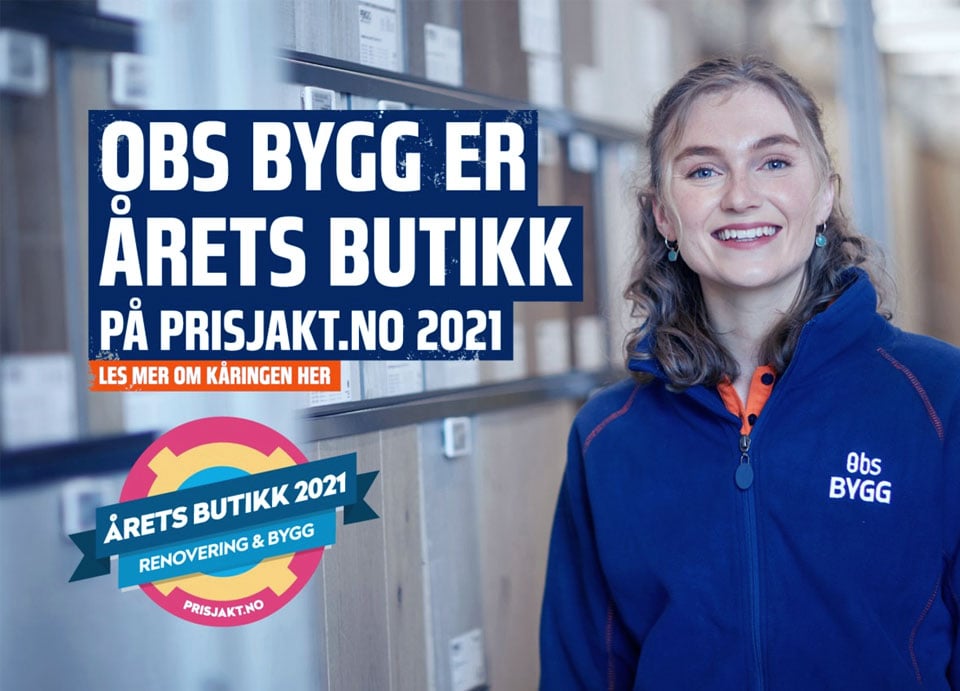 Store of the Year 2021
In December 2021, Obs Bygg was named Store of the Year in the Construction and Renovation category, by Norwegian price comparison site Prisjakt. More than 1,500 Norwegian stores had been evaluated and rated by customers after their purchases. Customers not only rated the companies on the basis of the lowest price, but also on the customer experience at large.
"We know that price is important for our customers, and we are constantly working to offer the lowest prices and the best customer experience. It's great to see that good customer care, fast deliveries and a good range are also acknowledged."
Ready for the next step?
With experience from hundreds of digital commerce and business development projects, we can leverage your unique selling points with a tailor-made strategy and best-of breed technology.
Find out how Avensia can help you fuel your business growth. Provide your contact information and we will be in touch very soon.