An E-Commerce Platform for Business Growth
Megaflis needed to modernize their e-commerce experience quickly to meet increasing and changing customer demands. In Avensia Nitro they found a pre-packaged platform with proven results from a range of other retailers. This made the decision easy.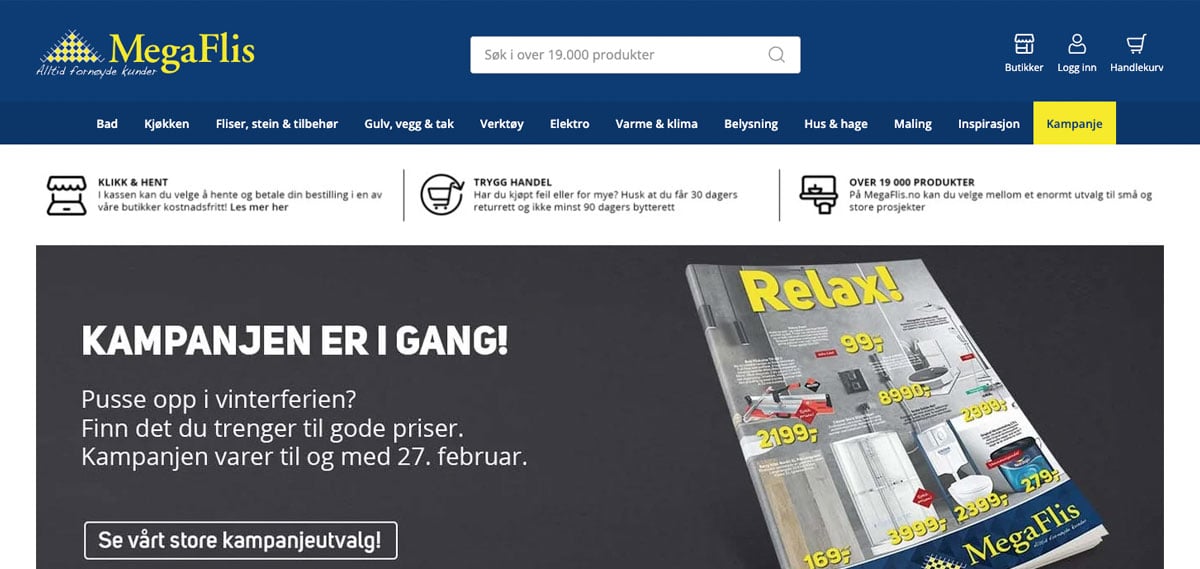 Type of project:
E-commerce, digital strategy
Strategy
Get the right tools in place and use the technical platform to continually modernize and adapt, based on more accessible and actionable customer behavior data.
Goals
Create the next generation customer experiences to meet the demands of modern consumers. Implement a scalable platform that supports Megaflis' ambitions of continuous improvements and long-term business growth.
conversion rate 1 year after launch
revenue uplift for sessions with on-site search, 1 year after launch
average order value for mobile users, 1 year after launch
The challenge
Modernize the technology and customer experience - fast
Megaflis is a leading Norwegian omnichannel retailer within construction, DIY and home decor, offering a wide range of tiles, floors, plumbing and heating supplies, lighting and tools. Megaflis has more than 20 physical stores and 600 employees. The typical customer is about to renovate a bathroom or kitchen, hence needs the right expertise and the right products, at the right price.
As the pandemic struck, and people were renovating like never before, there was a surge in demand for Megaflis' products. But the team at Megaflis was limited by legacy systems and an old e-commerce platform. They were not able to quickly adapt to meet customer demand. In order to stay competitive in digital channels, they needed to modernize, fast.
The pandemic was not the only reason for modernization. Megaflis' customer base is going through a huge generational shift. One of the strongest customer segments is between 25 and 35 years and have high expectations on the entire customer journey.
When Megaflis went on market to find a new digital commerce platform, their goal was to create a rich, and modern experience on which they could facilitate their continued business growth. In other words, providing the business with the best possible platform for growth.
As a buyer of e-commerce systems, there is an ocean of services and components to chose from. Avensia Nitro was already packaged and had proved its value with a wide range of other retailers. That made the selection easier for us.
The Solution: Avensia Nitro
Cherry-picked components conveniently packaged
Megaflis wanted the best components, but did not intend to build their own development team to do the integrations. Instead, they wanted a partner they could rely on for both the development work and the modern commerce experience to help challenge their team to further improvements and growth.
Megaflis were presented with the Avensia Nitro framework. The packaged approach means that all the integrations to PIM (product information management), personalization and search engine, are already done. Nitro had all the components Megaflis needed now and in the future, which made the decision easy.
Avensia Nitro works as a project accelerator. Since all technical components are already selected and integrated, Megaflis could focus on customer experience and business value, rather than the technical details, from the onset of the project. This allowed Megaflis to get the new e-commerce solution up and running really fast.
The modern commerce solution allows Megaflis to adapt and grow their omnichannel commerce offering at a much higher pace.
We wanted to get up and running as fast as possible, and from there adapt and grow. It was important to work with a partner that could facilitate a short time to market project and understand what it meant when we wanted to focus on the big picture and get our heads out of the details. We wanted a partner that would challenge us - and one that we could challenge. We found that in Avensia.
Continuous work
Constantly evolving customer experiences
Megaflis and Avensia are long-term partners. The members of the dedicated development team at Avensia are working closely with Megaflis, constantly developing the omnichannel experience. It is also a partnership based on trust. Megaflis expects Avensia to challenge them, and help them take the right decisions, in terms of technology, strategy and business development.
On the roadmap for further development is to create an enhanced and more visual buying experience. Megaflis wants to give their customers the ability to visualize the project they are planning, a new bathroom or kitchen, and have a very short step from this visualization to the checkout.
They are also working to empower their customers to interact more with the order they have placed, and continuously remove friction in their buying journey. In short, Megaflis are continuously evolving their modern commerce offering, with the customer experience in focus.
Every partner should challenge us in all decisions and in every different pathway. Avensia are the experts. We know our business, but Avensia's role in this project was to challenge us.
Ready for the next step?
With experience from hundreds of digital commerce and business development projects, we can leverage your unique selling points with a tailor-made strategy and best-of breed technology.
Find out how Avensia can help you fuel your business growth. Provide your contact information and we will be in touch very soon.