Composable Commerce Solutions
In modern commerce, fast time to market for new functionality and customer-focused designs are increasingly essential. With composable commerce, you can cherry-pick from an unlimited palette of system vendors who offer best-in-class solutions.
Take Control of Your E-Commerce Capabilities
Composable commerce is a digital commerce platform comprising of different modules. Each module has a specific function that brings value to both your customers and your business.
Headless commerce – where the frontend is removed from the backend – is what enabled the emergence of composable commerce. Retailers can quickly change and adapt the composition of modules according to customer trends. With composable commerce, you create meaningful omnichannel experiences that improve the entire customer journey.
The modules in composable commerce are often referred to as Packaged Business Capabilities (PBC). Each PBC is a function that adds value for the consumer – designed and optimized for one specific purpose. The modular approach in composable commerce gives retailers the freedom to choose the best component for each business need. So you can create better customer experiences.
Examples of functions you can add in composable commerce include:
Search engines
Promotions
Reviews and ratings
ID management
Analytics
Frontend
The Keys to Avensia's Composable Commerce Solutions
Using our development resources, commerce strategists and framework, we act as the glue that holds the various best-in-class PBC modules together for a solution that's tailored specifically to your business needs.
Avensia Excite is built using composable commerce technology.
The platform itself is built on commercetools – a leading exponent of composable commerce. Contentful provides the CMS. Inriver provides the PIM. Apptus eSales is the search and relevance engine.
Our composable commerce solution offers:
Packaged dynamic solutions that can be tailored for your business
Flexibility – retailers can remove components if they identify a better match for a particular function
List of standardized connectors to other systems, which is constantly growing – and these systems are free to add, with no development costs
Customer-led approach to your e-commerce project, focusing on the experiences you want to create to build a composition that makes it possible
Ability to build new connectors to other systems with APIs that allow for quick and easy integration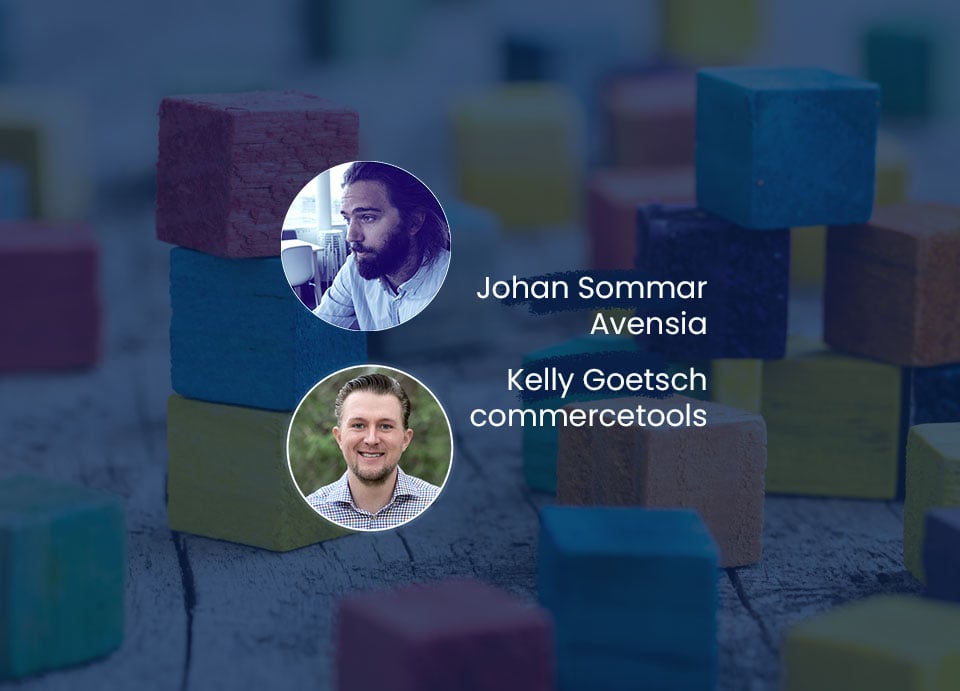 Webinar: One of the biggest trends in e-commerce: Composable
In this webinar we will present the business opportunities that composable commerce brings as well as address the most common myths about composable commerce (including the misconception that you need to be a really sophisticated tech company to use it).
Differences Between Microservices and PBCs
In addition to PBCs, you often hear the term microservices in discussions about composable commerce. Microservices are a developer concept and are often confused with PBCs. Let us untangle the two for you.
If a retailer wants to solve a particular business challenge by adding a best-of-breed business capability (PBC), then that composable commerce element will consist of several microservices. Each microservice is developed and designed for a specific purpose, communicating with other microservices over well-defined APIs. Together, the microservices form a coherent functionality to add business value within composable commerce.
So, in short, microservices are the building blocks of a PBC.
Your Partner in Composable Commerce
When you work with Avensia, you're getting much more than a one-and-done solution. You're getting a long-term partnership with some of the top experts in the field.
We believe that success can't be truly achieved if it's not sustainable. That's why we continue to work with your business after the initial composable commerce strategy is created and implemented. That way, we can help you continue to optimize your PBCs and the way they're used to keep you on top.
Ready to Take Control of Your Commerce Solution?
With experience from hundreds of e-commerce projects, we can help you find the right solution for your business needs and leverage your unique selling points.
Book a meeting with us and we'll be happy to tell you more about how Avensia can help your business. Provide your contact information and we will be in touch very soon.