Sustainability is no longer a trend in e-commerce. Instead, you should consider it a key component that every e-commerce business needs to be on top of, in order to secure long-term growth and profitability.
Starting small is better than not starting at all
You may argue that some, minor, sustainability initiatives are launched for pure PR purposes (aka greenwashing) and does not really make a difference in the long run. But I dare to say that when it comes to sustainability every step counts. As long as you act and not just talk it's totally fine to start with something small. Like removing unnecessary plastic packaging or carbon-heavy shipping options in your online store.
Taking sustainable e-commerce to the next level
Sustainability is one of the core pillars of modern commerce today. If you want to be serious about sustainability and take your business to the next level, you need a shift in perspective. Moving from launching sustainability initiatives to adapting a sustainable business model. That's quite a difference.
I have the pleasure to work with some major commerce brands who understand the need of this shift and hence have made sustainability a core part of their business.
A few good examples of businesses who have moved to the next level include:
NA-KD: The fast-growing fashion company recently launched their 'pre-loved' section of their online store where customers can buy vintage NA-KD products. The concept of circular commerce or re-commerce is highly appreciated by environmentally conscious consumers around the world. The fact that a fast-fashion player like NA-KD now joins this movement shows that the broad, young, fashion audience prefers a sustainable way of shopping.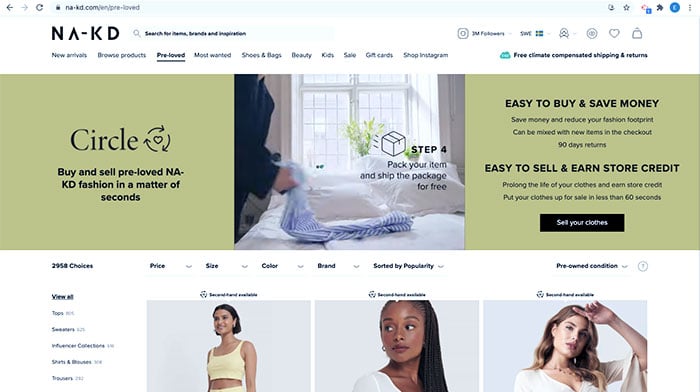 Polarn & Pyret: The children clothing specialist have always promoted sustainability by producing high quality clothes that survive repeated washing and can be worn by as many kids as possible. Already 11 years ago they started offering their loyalty club members to re-sell used clothes online to encourage recycling within their customer community. And since last year their customers have had the possibility to leave and buy second hand outerwear in the physical stores in order to extend the life of each garment. Today 54% of PO.P outerwear is worn by three or more children.
Filippa K: The Swedish high-end brand has built their business on the framework of circular fashion. This is an excellent example of embracing sustainability in every aspect of the business. From reducing the environmental impact in production to extending a garment's lifetime with repair services. To encouraging re-use by offering second-hand sales of pre-loved products and use recycled fabrics in production of new clothes.
Stormberg: It's not a surprise that Stormberg has been awarded 'Norway's most sustainable brand' for three consecutive years. The omnichannel retailer has a strong environmental, social and community engagement that is present in every aspect of the business. Recycled material in clothes, 100% renewable energy sources, climate neutral production and in-store collection of used products… the list of activities can get even longer. With a new e-commerce site in the works I'm sure we'll see even further sustainable innovations from Stormberg in the near future.
What is next in sustainable commerce?
As consumer awareness and consciousness around sustainability solidifies, businesses will be forced to move from launching initiatives and talking, to acting and driving real change. In order to do that they need to have the basics in a good shape. With a solid foundation of technology, organization and processes in place you'll get the flexibility to adjust, innovate and test the best ways forward for your business.
I started this blog post by saying that every step count, even the small steps. I still believe that. But I also encourage all modern commerce businesses out there to challenge themselves and look beyond the small steps. Because true sustainable commerce requires rethinking the business model and adapting to – or driving – new ways of consuming goods.
Your customers are looking for change and new, sustainable shopping experience. Are you ready to offer them that?