Whether you're an already established business looking to branch out into selling digitally, or you're a brand new business just getting started, the world of e-commerce can appear impenetrable at first glance.
Even worse, the further you go down the rabbit hole, the more questions seem to need answering. For instance, what does "headless" mean? What are the advantages it offers? How do you go about finding the right headless commerce solution for you? Each question just leads to more questions.
It's this complexity that makes e-commerce so wonderful, as far as we're concerned. It's an art, and it exists within a digital landscape that is constantly changing and flowing at a much faster rate than traditional physical retail market spaces. A true e-commerce master is able to adapt to changes as they happen and mold their online storefront to be successful as consumer trends come and go.
The way you interact with this complexity is by having full control over the customer's journey. You're free to create your own sales funnel from top to bottom. Depending on your e-commerce platform, you can have control over every pixel of your site to deliberately create something that guides shoppers to where you want them to discover your product offerings.
But yes, e-commerce is complicated. That's exactly why so many businesses turn to e-commerce consulting to help them sculpt their digital stores and online presences.
What Is E-Commerce Consulting?
E-commerce consulting is a powerful tool that thousands of businesses, big and small, use to strengthen their grasp over their online stores.
When a business runs into a wall with an aspect of e-commerce, like interpreting user data for instance, they bring in an expert or a team of experts to help guide them to a successful outcome.
Of course, e-commerce consulting can be used for a whole lot more than interpreting user data. Site designs or redesigns, customer retention solutions, PIM services, A/B testing, heck even building a whole online store from scratch are all things that can be accomplished with the help of a consultant. And there's a lot more as well.
At Avensia, we have whole teams of e-commerce experts, design specialists, and data analysts that we utilize to help our clients achieve success in a variety of areas. Because of this, we're considered full-service consultants that can help with any and every aspect of e-commerce business.
E-Commerce Consulting for Businesses Looking for a Refresh
Some of our favorite kinds of projects are those where we're brought in to help a business build a brand new site.
We offer two packages, Avensia Excite and Avensia Nitro, and are able to take a client from zero to a fully functional online store in a matter of weeks.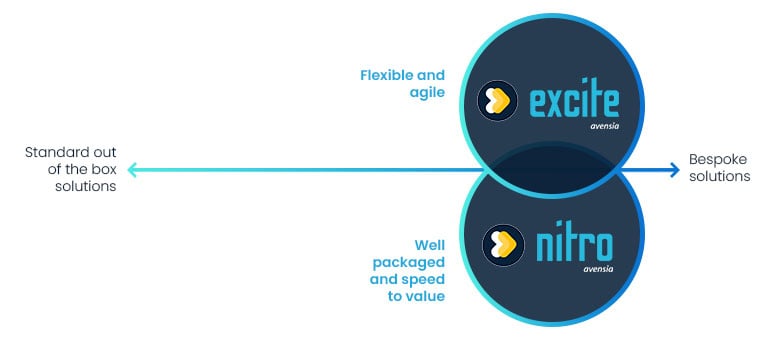 What makes this so exciting is that we get to guide our clients through the entire process of building a site on an established marketplace platform using customization tools. We also get to educate them on the various aspects of e-commerce design and analytics that make the online business tick.
While many e-commerce consultants place most of their emphasis on the technology, we always put the customer experience above all else. After all, the technological components are made to be understood and used. It's the customers who, at the end of the day, decide whether or not a business is successful.
Putting the customer first means carefully crafting every aspect of their journey through your buying process to eliminate tedium and provide them with an exciting and satisfying experience.
To do this, we always make sure to stay on top of the latest digital trends to learn what shoppers are enjoying now and, maybe more importantly, anticipate how those trends will change in the future.
Of course, testing is a big part of understanding customer behavior. We frequently help our clients run A/B tests to discover customer preferences for everything from page layouts to CTA language. We also offer usability testing to
By doing these tests, we're not only helping our clients understand the importance and function of testing, but we're also helping them to understand how their customers are interacting with their business. This helps our clients form better relationships with the people they're doing business with.
Should You Hire an E-Commerce Consultant?
If you or your business are in a place where you're asking this question, the answer is probably "yes."
E-commerce is complex and dynamic. While your business is utilizing those complexities to sell to customers and achieve success in the digital market space, our business is understanding those complexities to help you achieve that success.
In other words, our business is being experts in all things e-commerce so you can focus on your bottom line.
Whether you're looking to boost sales, redesign your site, or build an entirely new online store, we're here to help you along every step of the way. Or maybe you're just looking to demystify the ebb and flow of online customer trends. We can help with that, too.
Whatever your challenges are, Avensia is equipped to help you overcome them. Contact us today and find out why we're the right e-commerce consultants for your online business success.