More solutions
B2B and D2C E-commerce Solutions
The B2B environment is changing faster than ever, and D2C trends are causing digitalization to surge. This means business is never as usual. Our B2B and D2C solutions and dedicated team of experts will put you ahead of the game.
Explore our B2B e-commerce solutions for a changing landscape
Not only are modern B2B customers comfortable with digital and remote buying journeys - they prefer them. Perhaps more importantly, the amount they're willing to spend without ever interacting with a sales rep has massively increased.
The demand for digitalization has changed B2B buying beyond recognition. And what's pushing the boundaries? Automation and personalization. This reality underpins every B2B solution and strategy our B2B team creates.
We've helped B2B businesses become leaders in their markets by turning complexity into smooth and efficient sales channels.
Our B2B solutions include:
A data deep-dive – modernization starts with robust, useable data, so our B2B solutions begin with assessing your data infrastructure.
Information management assessment – We're experts in creating modern data governance models, designed to turn you into a data-driven business with higher quality data.
Change management – Our seasoned advisors know the power of uniting every department of your organization behind this journey. So we work to ensure that digital disruption isn't too disruptive.
And much more
How D2C experience informs B2B success
B2B sales and marketing are typically treated differently from D2C. But with rapid digitalization, those distinctions are blurring.
Digital models change exponentially faster than traditional B2B models. That's why learning from D2C is the smartest way forward for effective B2B solutions.
Our B2B teams know D2C commerce and digitalization inside-out. With that leading-edge position, rest assured your B2B solution is agile and future-proof. That means it's a living, learning platform that reacts to live data – constantly improving and iterating.
Our B2B solutions apply cutting-edge tech and industry-specific strategies to create the experiences your buyers now expect – like fast load times and video content. It's a recipe taken straight from our B2C offering. And it's already accelerating growth for B2B brands with Avensia.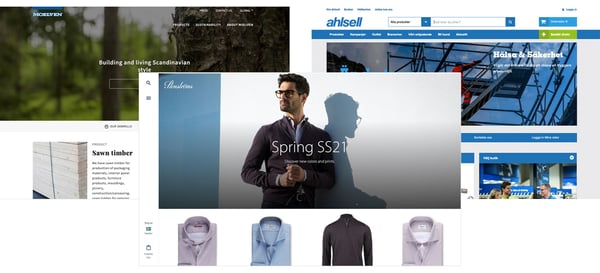 We help you capitalize on the D2C e-commerce boom
Our pre-packaged D2C solutions will take your business to the next level.
The D2C sales model – selling direct to consumer without third-party involvement – is booming.
Consumers love the transparency, simplicity and non-corporate marketing these brands deliver. With no physical stores or middlemen, D2C businesses have significantly lower costs, higher profits, and ownership of all the data they can get their hands on.
It's an appealing proposition. We can help you make it a reality.
We've helped many brands sell direct to consumer – creating modern commerce solutions for D2C that are as fast, engaging and intuitive as any e-commerce platform. Yet, without the lengthy timeframes and big budgets that often come with them.
With our pre-packaged solutions and a modular approach, you can focus on the functionality and experiences you want, instead of worrying about technical concerns.
Enjoy a new, high-margin sales channel and a better way of collecting customer data in a remarkably short space of time. It's an approach that's ready-made for your D2C ambitions.
White Paper
Future-Proof B2B Commerce
Evidence suggests that today's B2B buyer is not just comfortable with a digital buying experience – they might actually prefer it. In this white paper, we'll compare the characteristics of B2B commerce with those of B2C, and then examine the technological foundations you need for a future-proof B2B commerce strategy.
Ready for the next step?
With experience from hundreds of digital commerce and business development projects, we can leverage your unique selling points with a tailor-made strategy and best-of breed technology.
Find out how Avensia can help you fuel your business growth. Provide your contact information and we will be in touch very soon.