The retail industry is full of buzzwords. Modern Commerce isn't a buzzword. It's a new way of thinking that every retailer should be implementing.
What is Modern Commerce?
What makes Modern Commerce different is that it isn't a fixed concept. It can actually look quite different from retailer to retailer.
This is because Modern Commerce recognizes that retail is always evolving and embraces it.
Competition can come from nowhere and rewrite the rule book. Brands can go from nothing to being worth millions in a matter of years. New companies can start trading online in just minutes.
The pace of change can be mind-blowing.
As such, Modern Commerce isn't tied to any specific channel, tool or technology because these are the elements that are always changing. Instead, Modern Commerce is defined by processes and management style.
What does Modern Commerce mean for retail?
Modern Commerce requires retailers to change their thinking and culture in order to enable their people to act in agile and flexible ways.
The Modern Commerce Academy online retail course offers them the framework to do this, bringing together 12+ years of experience from the Insider Trends and Avensia teams, in just three weeks.
The course is a fantastic introduction to Modern Commerce that takes a birds-eye view of the entire industry to show how it can work together in a more holistic way.
It gives retailers a Modern Commerce framework that they can immediately apply to their businesses and that they can keep returning to in the future – no matter what changes.
One thing the Modern Commerce Academy makes clear is that there is no one existing retailer that has perfected the concept of Modern Commerce.
But there are some retailers that excel at certain elements of it.
Nike is one such company having spent a lot of time rethinking what its business can be and how it reaches its customer. This has led the company to increasingly adopting a direct-to-consumer approach as it looks to forge relationships with the customer. This is more important than the channel where this happens.
Companies like Glossier also embody Modern Commerce thinking by using content marketing to build a communication channel with customers. From here it pivoted to a two-way dialogue that allowed it to understand exactly what the customer wanted and build products that responded to those wants and needs.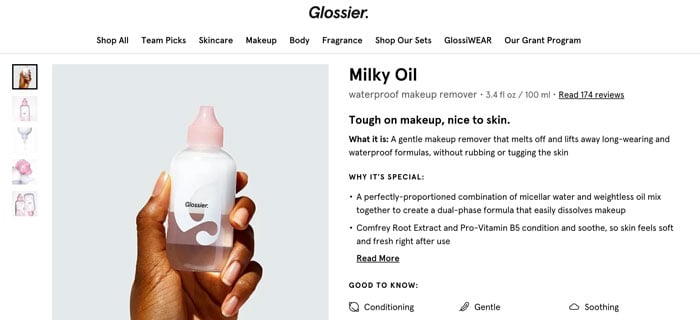 It's from examples like these that retailers can learn to identify the clues to Modern Commerce and how to put it together in a single framework.
Why Modern Commerce is important for retail
The clue is in the name.
Modern Commerce is all about modern retailing and every retailer should be wanting to get it right. There are no prizes for being behind in retail today. All too often retailers who fall behind don't stay in business.
As such, it's imperative that retailers start to change the way they think about retailing.
The Modern Commerce Academy offers a great starting point for retailers on how to optimize their business so that they're always at the forefront. This will stand them in good stead not just today, but also ensure they're successful businesses in the future.