News
Avensia live with new website
A new Avensia.com has been launched with a new look and feel, on a new platform. In addition to giving the website a facelift in terms of design, the aim of the website project is to better present our offer, share our knowledge about modern commerce and attract new talent.
February 18, 2021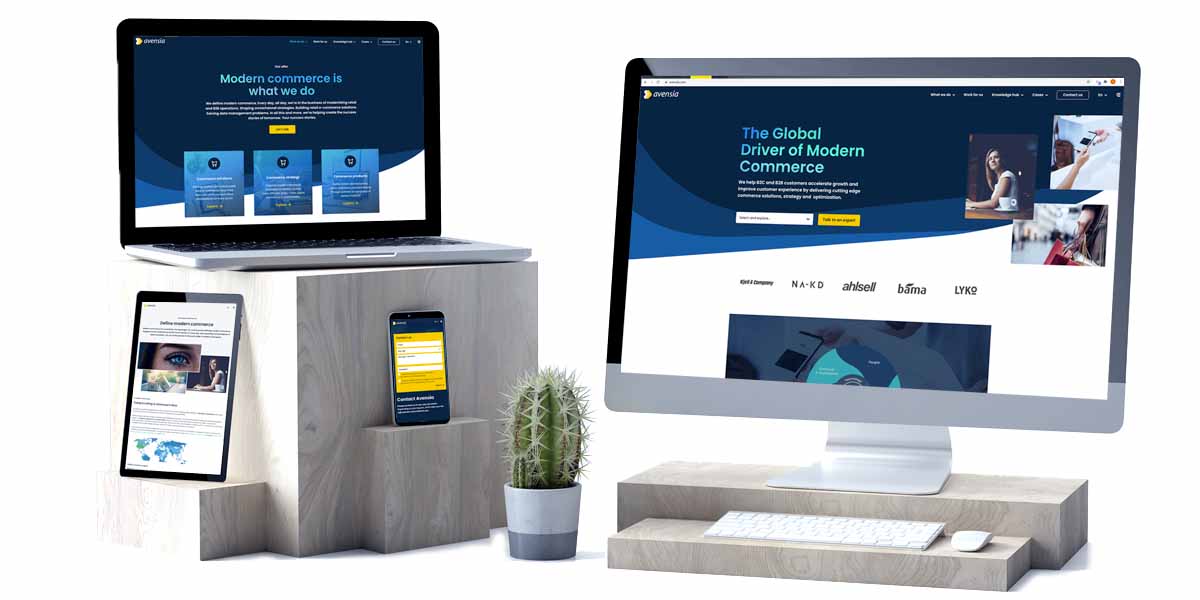 The new website, avensia.com, will act as our global site and includes our offer for all markets. Sites in local languages will be published shortly, starting with Swedish and Norwegian. The site is built on Hubspot's web platform.
- Building the website in Hubspot allows us to have all our marketing channels and digital activities in one place. It also allows us to connect all our content and personalize it more easily, says Emilie Olsson, Digital marketing manager at Avensia and also project leader for this project.
The site is designed and developed in close collaboration with our partner Avidly, a leading MarTech service provider specialized in impact-driven growth strategies who recently got named HubSpot's Global Partner of the Year.
- We wanted to challenge Avensia by creating something new and unexpected, with the ambition to strengthen their brand and position. By developing a new image style and graphics with stronger contrasts, we created a bolder and more attractive web, with improved usability and target group adaptations, says Örjan Bergholm, Digital Designer at Avidly.
In the web project, we use the strategy called GDD (Growth Driven Design). This means that the first version of the site is simple and clean, but during the upcoming months it will be developed and grow according to visitor behaviour and traffic analysis. We are also planning to use our own website technology at a later stage in the development phase.
We have put a lot of effort in refreshing and better describing our offer, in order to illustrate how Avensia can empower manufacturers, wholesalers and retailers to grow and succeed in modern commerce. We have also made it easier for visitors to find relevant thought leadership material, covering topics on modern commerce.
Avensia is growing, and we are always looking for more talented people to join us in our endeavor to define modern commerce. By presenting our offer and our knowledge in a more appealing and logical manner, we are also hoping to capture the interest of more potential recruits.
Visit our new website, www.avensia.com and don't forget to subscribe to our Knowledge Hub so you don't miss out on upcoming webinars and other useful insights.
---
Avensia
The Global Driver of Modern Commerce
At Avensia, we are experts in digital commerce. We dare the upper limits so our customers can scale higher, and we are continuously pushing the boundaries of what's possible in modern commerce. With our combination of technical and strategic business expertise, we help B2C and B2B customers accelerate their growth and become even more successful in their day to day business.
Together, we define modern commerce.