More news
Customer launch
Nordic Nest live with next-generation e-commerce site
Nordic Nest has successfully launched a new digital commerce site leveraging a composable technology approach, built in collaboration with Avensia. With this new site the online retailer of Scandinavian interior design raises the bar – the goal is to provide the best digital customer experiences ever.
June 3, 2021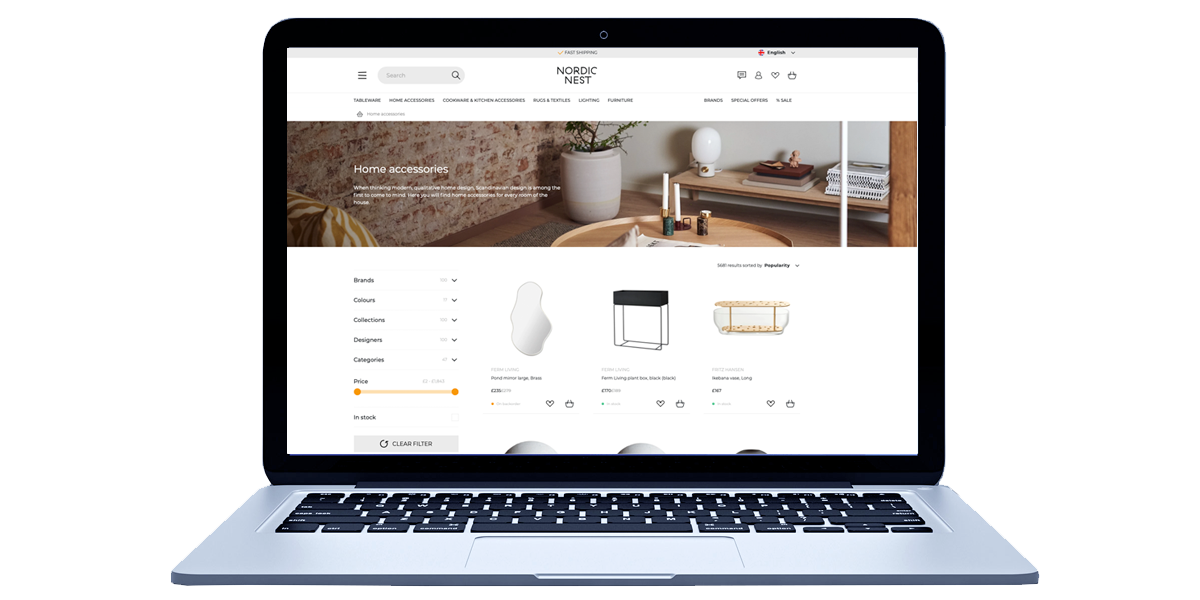 In today's modern commerce landscape, adapting quickly to new consumer behavior is key. To keep up with the pace of customers as well as the rapid business growth and to reach the ambitious goal of delivering world-class buying experiences, Nordic Nest needed a new scalable, future-proof e-commerce solution.
Together with modern commerce expert Avensia, Nordic Nest selected a composable approach combining best-of-breed technology components of their choice. At the center of this set-up is the commercetools' e-commerce solution and Avensia Excite.
Thanks to this approach Nordic Nest has been able to quickly go live with a high-quality e-commerce site while still enjoying the benefits of a solid platform in terms of performance, speed and stability. In addition, the new technology enables Nordic Nest to quickly adapt to future changes whether that implies integrating new sales channels or adding new functionality. Most importantly, the team can continuously test, optimize and improve customer experiences to ensure they reach their end goal.
Bank Bergström, CEO of Nordic Nest is pleased with the result:
- We really got this one right by combining Avensia's deep knowledge of modern commerce, commercetools' composable platform, and Avensia Excite's powerful performance. The headless and component-based approach allows us to work more agile and data-driven, so that we can develop together with our customers and offer unique customer experiences.
Avensia Excite works as a connector between the commercetools solution and the other applications that make up the Nordic Nest e-commerce platform. As such, the Excite framework accelerates time to market while ensuring world-class site performance, stability and scalability. It is built using a MACH architecture, leveraging the latest in Microservices, API-first, Cloud-native, and Headless.
- Avensia's ambition has always been to work with customers who want to be at the forefront of modern digital commerce, says Robin Gustafsson, CEO at Avensia.
- This collaboration with Nordic Nest has been just that. A joint project with a common goal to build something completely new, in order to offer exceptional customer experiences.
Nordic Nest's new e-commerce site is now live serving customers in 70 different countries. The new composable platform combines best-of-breed applications from Avensia, commercetools, Contentful, Apptus and inRiver.
---
Avensia
The Global Driver of Modern Commerce
At Avensia, we are experts in digital commerce. We dare the upper limits so our customers can scale higher, and we are continuously pushing the boundaries of what's possible in modern commerce. With our combination of technical and strategic business expertise, we help B2C and B2B customers accelerate their growth and become even more successful in their day to day business.
Together, we define modern commerce.