More news
Customer launch
Dormy drives international expansion with new e-com site
Swedish golf retailer Dormy has launched a new e-commerce site, built by modern commerce expert Avensia, to support their rapid international growth. The new site is built on the latest technology leveraging a modular approach that allows Dormy to scale the platform as the business continues to grow.
June 23, 2021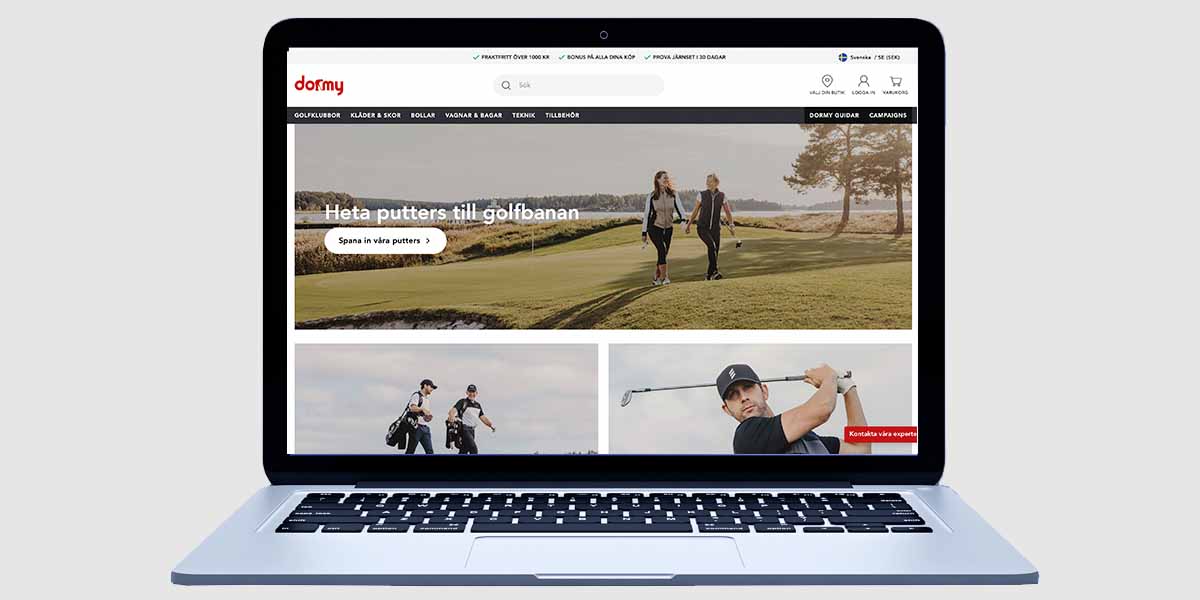 The recently launched e-commerce site is built on a composable technology, combining a number of best-of-breed applications that together form the optimal solution for Dormy.
With this setup Dormy can now offer their customers a super-fast site and the same high-quality product information, service and support as in their physical stores. The e-commerce site has a core position in Dormy's omnichannel strategy, as an online shop and knowledge hub that customers want to visit over and over again.
- Our goal is to be the market leader in Europe, said Anders Wall, CEO at Dormy.
- That ambition requires a modern and scalable e-commerce platform so that we can provide the best buying experience to our customers. We're very impressed by Avensia's delivery, just a few weeks from go-live the site performs extremely well on both speed and customer engagement metrics.
The new Dormy e-commerce site is built on Avensia Excite, the composable project accelerator that connects commercetools' commerce platform with the Contentful CMS and Apptus' search and relevance engine. This modular approach puts Dormy in a solid position to further optimize the site and expand reach as the company grows its business to new markets.
- I'm very happy to welcome Dormy to the Avensia family, said Robin Gustafsson, CEO at Avensia.
- The newly launched site is a great foundation for further international expansions and we're looking forward to continuing to support Dormy's future growth journey.
The new Dormy online experience is available on www.dormy.com.
---
Avensia
The Global Driver of Modern Commerce
At Avensia, we are experts in digital commerce. We dare the upper limits so our customers can scale higher, and we are continuously pushing the boundaries of what's possible in modern commerce. With our combination of technical and strategic business expertise, we help B2C and B2B customers accelerate their growth and become even more successful in their day to day business.
Together, we define modern commerce.