More news
Customer launch
AJ Products and Avensia Launch B2B E-Commerce Site of the Future
During the past 45 years AJ Products have delivered interior design products to offices, schools, warehouses, and industries. The company, that built their longstanding success on mail-orders, now launches a new e-commerce site where the customer buying experience is front and center.
August 31, 2021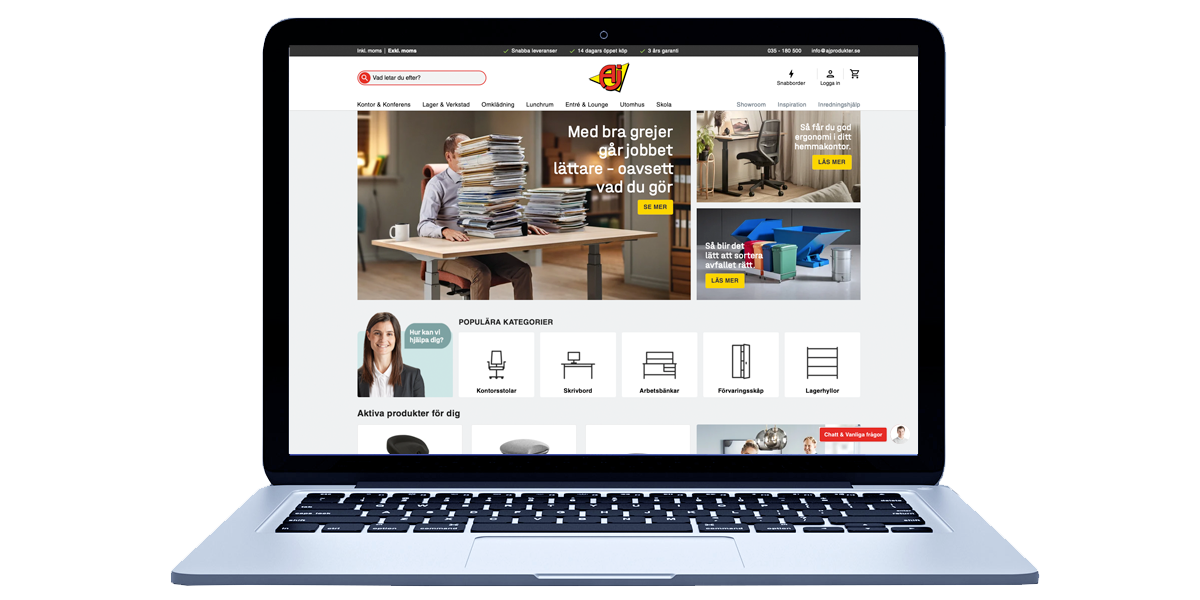 AJ Products operates on 19 markets across Europe. The launch of the new e-commerce site is fundamental to the company's strategy to increase international presence and market share. The goal is to deliver a fast, convenient, and personalized customer experience. AJ Products selected modern commerce expert Avensia as partner in the project.
- The cooperation with Avensia has been fantastic, says Johan Petersson, CIO at AJ Products.
- Our staff and Avensia's consultants have formed a tight project team with quick communication paths and lots of experience sharing. Thanks to a clear, common goal, the right competence within the team and close communication we have together been able to take this project to the finish line in an incredibly smooth way, Johan Petersson continues.
E-commerce in the B2B segment has in general not developed at the same rapid pace as within consumer products. But the idea that online sales to businesses has to be a product focused, factual and dull experience is obsolete. AJ Products has an ambitious e-commerce agenda – they want to inspire and support their customer throughout the entire buying journey. The new site delivers high technical performance and smart functionality to improve the shopping experience and hence drive increased sales for AJ Products.
- The new site is key to future-proof our digital sales and growth, says Viktor Sundberg, Head of E-commerce and Digital Marketing at AJ Products.
- We now have a stable technical foundation that gives us the flexibility we need to test, optimize and further develop functionality to continuously increase conversion rates, and consequently grow revenues form our digital channels.
- We are proud to be part of this journey together with AJ Products, says Robin Gustafsson, CEO at Avensia.
- Because our team has been involved right from the start where we together defined project scope and goals, we've been able to work towards a clear direction throughout the project and now launch a site that delivers direct value to AJ Products' customers as well as business goals, Robin Gustafsson concludes.
The new AJ Products e-commerce site is build on Optimizely (Episerver) and Avensia Nitro, and leveraging solutions from inriver, Apptus and NETS. The site is so far live in Sweden, Finland and Slovakia. Remaining markets will follow during the fall of 2021.
---
Avensia
The Global Driver of Modern Commerce
At Avensia, we are experts in digital commerce. We dare the upper limits so our customers can scale higher, and we are continuously pushing the boundaries of what's possible in modern commerce. With our combination of technical and strategic business expertise, we help B2C and B2B customers accelerate their growth and become even more successful in their day to day business.
Together, we define modern commerce.