Checklist:
Optimize Your Digital Sales
Are you tapping into your full digital sales potential? We asked our most experienced e-commerce advisors where they would start if they had to optimize digital sales quickly.
Get it
Get the full checklist of hands-on actions that will really help you boost digital sales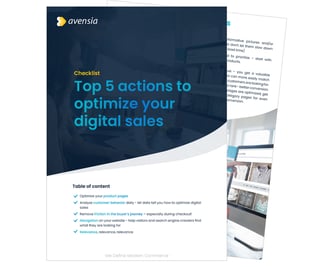 Here are 5 actions that they came up with that will make your customers love you (and drive more digital sales);
Optimize your product pages
Analyze customer behaviour daily – and act on it
Remove friction in the buyer's journey
Improve ease of navigation on your website
Relevance, relevance, relevance
The full checklist will explain in detail what you and your team can do to become an e-commerce dream team and make the most of the systems you already have, such as your CRM. We also give you examples of common hurdles in the buyer´s journey and in navigation along with digital sales optimization tips and tricks. We hope you'll like it!
Get it
Get the full checklist of hands-on actions that will really help you boost digital sales