The Insider Trend report:
5

new

trends shaping modern commerce
In our previous trends report we stated that nothing has changed the way we shop more than the digital age. Now we can say that the pandemic has changed the world faster than ever in so many areas. In the grand scheme of history, it may end up as a temporary shift, but for businesses this last year has felt like a lifetime as they struggled to adapt to the upheaval.
Get it
Get the full report and 5 new trends driving modern commerce in this report from London-based Insider Trends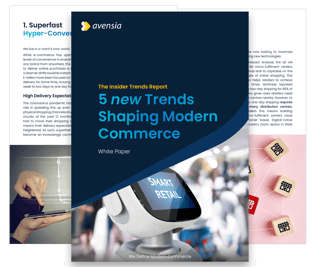 Embracing Modern Commerce has never been more vital
The principles of Modern Commerce make it possible for organizations to manage this change. It's a way of thinking rather than a specific channel or technology. Our very popular trends report from UK based Insider Trends has been updated with 5 new trends that are not only driving modern commerce, but also shaping it.
In this white paper we dig into these five trends;
Superfast hyper-convenience
Mass micro-fulfillment
The unmanned store
Experience everywhere
The new normal: Post-vaccine customer behaviours
Get it
Get the full report and 5 new trends driving modern commerce in this report from London-based Insider Trends