White paper:
Five key challenges in modern commerce
The innovation and swift changes we have seen in retail during the pandemic is applaudable. But as we move towards a post-covid future - a new set of challenges are emerging.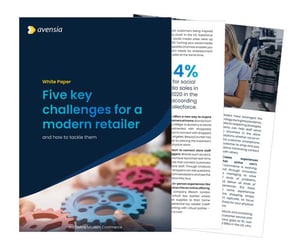 The new challenges in modern commerce - and how to tackle them
This whitepaper looks at five key challenges and provides you with a number of practical ways to tackle them.
How to increase the impact of e-commerce
Changing behaviour in customer loyalty
Utilizing data in the right way
How to get customers back into stores
The uncertainty of post-pandemic customer behaviour
It focuses on what retailers can do now to ensure success, but also recognises that modern commerce is a constantly moving target that requires retailers to keep reinventing themselves.
The five challenges explored here are being experienced by almost every type of retailer, regardless of what area of the industry they're in.
Get the answers
Download the full white paper, and find out how to tackle the new challenges in modern commerce.