Today, when customers so easily can chose to do their shopping wherever they want, deep and genuine customer relationships will be required to survive on the market in the long run. Still, most retailers are basing their strategic decisions on sales reports only. When do statistics about customer satisfaction become a management issue?
Today, sadly, monitoring and comparing sales figurers and sales trends, down to hourly levels, is the main concern and driving force for many companies. Sales figures are twisted and turned and quick fix activities are invented to meet the sales budget of the week. I don't question the monitoring of sales figures, but I argue that the activity is too short-term to work as a strategy.
It is no longer a sustainable model and not the recipe for long-term survival. These companies are clearly not lifting their eyes, looking ahead or thinking strategically.
What is the driving force for your customers?
Increased traffic, sales and repurchases is not a goal - it is a result. A result generated by insight-driven, conscious and well-prioritized efforts, delivered by employees at all levels.
Customer experience and satisfaction is not something you can fix with an activity plan nor an isolated project. It is a way of thinking, acting and living every day. Many companies don't realize this and are stuck with their old ways of working, without a clue about how their customers perceive them, what really would satisfy them and create long-term effects.
Most companies should put much more effort into understanding what is actually generating the effects. I'm not talking about squeezing another 20% off on all shirts or 3 for 2 on all picture frames. I talk about gathering material to understand customers' driving forces and actual experiences and use the insight as a basis for constant improvement work. But how do you do it and how to measure its effects?
CSI is a management issue
CSI, Customer Satisfaction Index, is in my opinion the most important key figure for a company. In terms of internal attention and action plans, it should be superior to traffic and sales figures, because CSI is linked to the company's brand promise, offer and the way customers are treated. It affects the entire organization, culture, delivery capacity and competitiveness of the company. Thus, CSI is a management issue!
Yes, some companies do measure CSI or NPS (Net Promotor Score), but only a few of them are actively using it as basis when working towards a sharper customer experience and better customer relations. In most cases, CSI/NPS remains only an isolated figure or indicator. It is very rare that the results are analysed in terms of what customers actually think about the experience itself, interaction points in customer journeys, and why they gave a positive or negative response.
In a market survey from 2019, Bond Brand Loyalty found out that 80% of the companies surveyed thought they were delivering a really good customer experience. That's just a problem ... Only 8% of their customers agree!
As a true customer ambassador, I can't help but question why many companies keep working in the same old ways and don't realize that successful business will always be about good relationships!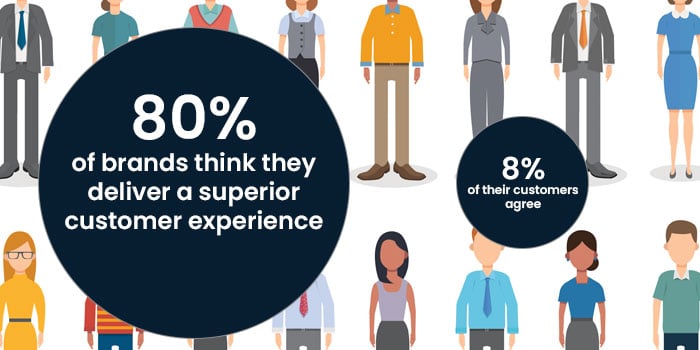 Why aren't more companies working using CSI results in their tactical and strategic improvement work?
I think that is mainly due to lack of one or more of the following components:
Customer Promise - Everything starts with this, but often, no customer promises are spelled out for the company. A customer promise should not be confused with brand value. The promises should be formulated from a customer perspective, be concrete, clearly described and transparent - why do we have them, what do they mean and how should we act in order to deliver and live by them every day?
Customer Centricity - Being customer-centric is not something you become just by talking about it. It is a strategic change of direction and requires clear goals, concrete action plans and focused work , and should always involve and engage the entire organization. Being customer centric is a culture - a way to live and act all the time.
Responsibility - The CSI-work is often led by a CRM manager or a someone in a similar position in the company who tries to make their voice heard, develop insights and drive the improvement work to the best of their ability. This is a good start, but CSI results are, as previously stated, larger than one person's responsibility. It should involve the entire organization and the management team should have the ultimate responsibility.
Methodology - Often several different systems are used to collect customer insights, and with poor integrations to the CRM system. What you get is inconsistent measurement methods and incomparable figures. You may measure an average NPS value but have no insight into what you actually measure, how and why. The old systems often have a limited functionality that does not support an action-based methodology which in turn results in a lot of manual work.